HSL's School Production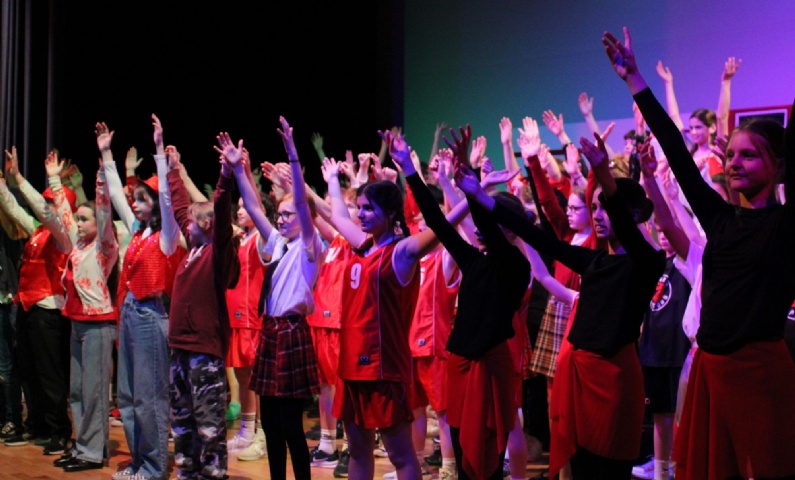 On the 27th March, HSL students opened up their curtains for the first time for the first set of performances for the licenced production of 'High School Musical on Stage' - and what a day it was!
We welcomed pupils from Leckhampton and Naunton Park to visit HSL to watch the final dress rehearsal and it was clear that they enjoyed what they saw! It was also lovely to witness our primary colleagues seeing their past pupils shine in the spotlight. One particular comment that stood out was, 'It was just incredible to see so many children singing their hearts out on stage - amazing!' The primary school pupils were all smiling and saying what a great afternoon they had!
HSL pupils returned to school at 6:15 on their opening night ready for a fantastic show! There was a real buzz in the air and pupils all warmed up with Mrs Vaughan in the canteen by singing a 'High School Musical megamix' which really set the tone for the evening. The pupils couldn't wait to put on a great show for their first evening audience.
The pupils were outstanding! The following groups of roles were on stage: main cast, party kids, thespians, basketballers, jocks, cheerleaders, skater dudes, brainiacs amongst others. To coordinate this number of pupils, from casting, rehearsals and final performance is no mean feat and with that, we'd like to express our thanks to Mrs Vaughan and Mr Bunting for their dedication and commitment to the show. We strongly feel passionate about ensuring that all pupils are recognised and celebrated for their success and achievements!
Feedback from the first evening show was equally as positive. The fact that it is just year 7 and 8 pupils who are on stage, helping backstage, organising the lights, sound, microphones is simply spectacular. We feel incredibly proud of all pupils involved in the production. So many parents came to speak to staff members at HSL about what a fantastic evening they had and how much of a joy it was to see so many students in the production. It's lovely to see their efforts being recognised by the wider HSL community! We'd like to thank you all for your positive feedback.
We have two more wonderful nights worth of 'Wildcats' spirit. Tickets are now limited to please purchase any last minute tickets on scopay!