Temporary Site at Balcarras
The High School Leckhampton, due to open in September 2021, has unfortunately been delayed until May 2022. In these circumstances Balcarras, the new school's sponsor, has a duty to educate the 120 pupils who will be allocated to the High School Leckhampton by the local authority and who will have no other place within the existing secondary school system. To meet this urgent need, Balcarras and the LA have agreed to locate an additional building on the Balcarras School site to provide excellent accommodation for these pupils until the High School Leckhampton is opened the following year.
A beautifully designed two storey building with very low environmental impact (zero carbon, A+ rated) will house four classrooms, office space and ancillary services to ensure the children have outstanding accommodation and an excellent experience of their first year of secondary education. This specially designed building will be sited well within the boundary of Balcarras School, with minimal impact on views from any neighbouring houses.
See the progress at our temporary site below: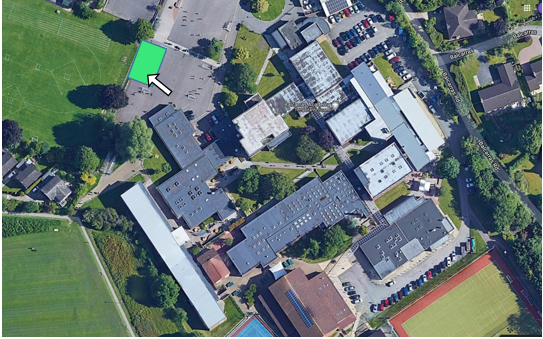 We are acutely aware of traffic conditions on the local roads around Balcarras School. In close consultation with the local authority, to minimise congestion, we have agreed that the additional pupils will arrive and depart at different times from the Balcarras students. In addition, the LA will organise a bus service from the High School Leckhampton for all pupils to use during their first year of secondary education. Currently, 77% of Balcarras pupils walk or cycle to school, usually via the Beeches Field entrance and we will make a concerted effort to improve this further during 2020/21. With the mitigations in place, we believe that this temporary situation will have a minimal impact on traffic flow in the local area.
The new circumstances will only continue for a short time: certainly less than a year. The High School Leckhampton will be completed by June 2022 at which time the pupils will relocate to the new site. Balcarras has no plans to increase the number of pupils this year or for the foreseeable future. Indeed, we are determined to maintain current pupil numbers, which have been so beneficial to the careful pastoral care and academic success the school enjoys.
When the children from Leckhampton leave us, the building will be incorporated into Balcarras School. We have endured a lack of capacity for years and the integration of the new building will significantly redress this situation. Our plans are to move the Business Studies department into the building. This will have a double benefit to the school, not only providing excellent accommodation for the incredibly successful Business Studies department at both GCSE and A Level, but also allowing the very cramped conditions around the sixth form study areas to be alleviated.